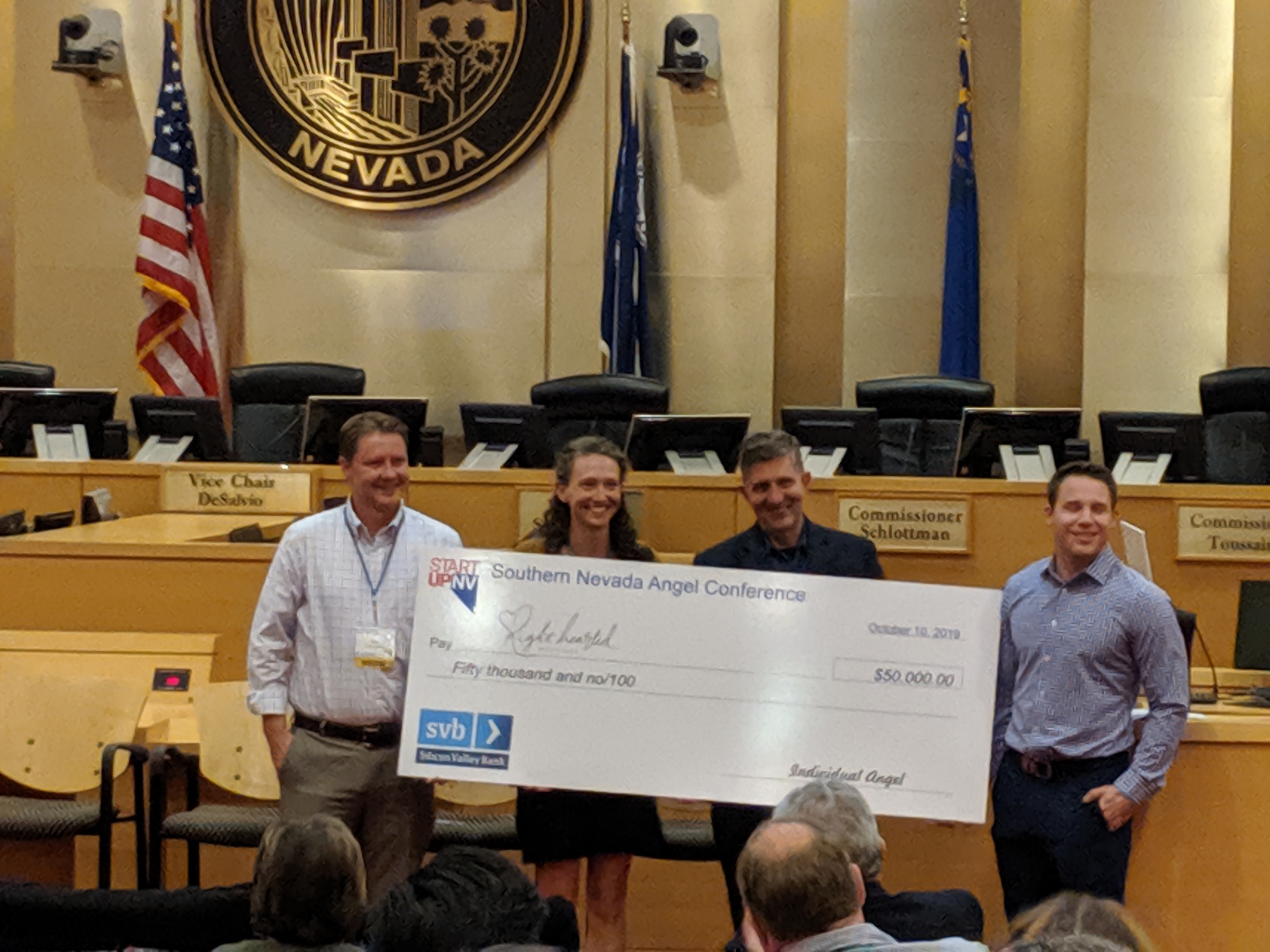 Las Vegas Angel Investors want to invest $200,000* in your company
Don't miss this opportunity to transform your business.
There's no need to wait. Confirm your participation now before before the AngelNV 2021 Fund application deadline on Thursday, December 17, 2020 at 5pm local time. Any entrepreneur, any company with a product and/or, any startup can apply to the AngelNV boot camp program. The application process is straight forward. Those that apply for post accelerator funding follow screening and due diligence processes that are designed to be transparent, efficient, and constructive for both the entrepreneur and participating investors.
The accelerator and funding process is easy to follow:
1) Apply to the Accelerator
Complete the registration that could change the future of your company!
Register anytime thru December 8, 2020. You can catch-up on past sessions via YouTube. The September to December founder boot camp is FREE.
There is a fee to apply for angel funding and attend the March 25 angel conference & gala, but you can decide later (by Dec-18) if you want to apply for funding.
2) Apply for Angel Funding
During the accelerator, decide whether to apply for Angel funding. The funding application deadline is December 18, 2020.

There is a $149 fee to apply for AngelNV funding. The application fee is requested after completing your company's application and before we move your company into "evaluation" via our portal on GUST.com, where investors securely review information to determine finalists.
3) Participate in Selection
Investors review the accelerator applications, gust.com information submittals, and select deals to move to each round.
Entrepreneurs are encouraged to provide detailed information and continue updating Gust.com during the entire accelerator and review process. There are 4 rounds in the selection process, with 6 finalists presenting at the AngelNV final event.
4. Attend the Conference
Whether or not you advance to the finals, every applicant is encouraged to attend the AngelNV conference & gala to network with investors, connect with other entrepreneurs, and learn from presenters and finalists.
One ticket to the event is included in your angel funding application fee – to buy additional tickets, click the button below.
Entrepreneur Track | Founder Bootcamp
Online via Zoom & limited in-person @
International Innovation Center @Vegas
300 S. 4th St #180, Las Vegas, NV 89101
| Date | Time | Subject | Speakers |
| --- | --- | --- | --- |
| Sep 8, 2020 | 5:30pm-8:30pm | Intro to Raising StartUp Capital | Chris Rowan, Doug Komen, Judy and Mysty |
| Sep 22, 2020 | 5:30pm-8:30pm | Pitch Deconstruction & Practice | Judy & Misty |
| Oct 6, 2020 | 5:30pm-8:30pm | Big Picture – Market Size | Kurt Friedman |
| Oct 20, 2020 | 5:30pm-8:30pm | | Judy Mahan |
| Nov 3, 2020 | 5:30pm-8:30pm | Financials & Metrics | Rolando Locci |
| Nov 17, 2020 | 5:30pm-8:30pm | Pitch Deconstruction & Practice | Jeff/Maggie |
| Dec 1, 2020 | 5:30pm-8:30pm | Due Diligence Prep | Josh Geffon |
| Dec 8, 2020 | 5:30pm-8:30pm | Application Prep for AngelNV* (optional) | Jeff and Mysty |
| Dec 17, 2020 | until 11:59pm | AngelNV Application Deadline (optional) | |
| Feb 2, 2021 | 9:00pm-3:30pm | AngelNV Pitch Prep (optional) | Charmaine Farber |
| Mar 25, 2021 | 5:00pm-8:00pm | AngelNV Conference & Finalist Pitches | |
Frequently Asked Questions (FAQ)
What is StartUpNV(SNV)?
StartUpNV (SNV) is a NV statewide Incubator that helps Founders/Startups to Create, Collaborate on and Capitalize their businesses by providing mentoring and support services.
Why is StartUpNV creating AngelNV?
To educate accredited investors on how to be successful angel investors in Nevada startups, growing our local startup ecosystem, diversifying our Nevada economy, and giving our local investors the chance to succeed in Nevada.
What are the investor terms of FundNV?
AngelNV is targeting a fund totaling $200,000 (or more) on or before March 25, 2021. Member units are priced at $5000 each, with an additional adminstrative and legal fee of $1,000 per unit. The fund will be managed through the Assure Glassboard platform and requires Limited Partners (members) to be Accredited Members of Glassboard.
Who will manage FundNV?
An Investment Committee (IC) of "Active" members selected by StartUpNV and AngelNV LP's (members).  An "Active" member Angel is committed to attending all of the training and at least 60% of the periodic meetings about the companies.  Other accredited members may invest passively and participate occasionally in training and meetings, but will not participate in the final selection.
Who can invest in the fund?
Accredited Investors as defined by the US Securities and Exchange Commission.
How will AngelNV source deal flow?
AngelNV expects that the extensive statewide network of StartUpNV will provide sufficient applicants to the fund.
How big will the fund be?
AngelNV will be $100,000 to $200,000 with a targeted investment of $200,000 on March 25, 2021
What is the maximum initial investment by AngelNV that will be allowed per company?
The maximum total investment from AngelNV will be $200,000 per company from the conference fund. Additional investments may be made via a "side car" special purpose vehicle (SPV).
How much can I invest?
Active and passive member units are priced at $5000 each, with an additional administrative and legal service fee of $1000 per unit.  The minimum investment is 1 unit, there is no maximum up to 40 unit total amount of the fund.
How much risk is involved?
This segment of Asset Class, early stage startup companies, is considered to be very risky and it is possible for you to lose your entire investment given the very high risk. Prospective investors should give careful consideration to actual and potential risk factors and conflicts of interest discussed in the PPM in evaluating the merits and suitability of an investment in the fund. An investment in the fund, and the portfolio companies securities, involves considerable potential risks including the possible loss all or a material portion of your investment. You should closely review the written FundNV "Risk Factors" noted in the PPM when considering an investment in AngelNV.
Why should I invest in AngelNV?
First and foremost, we believe the AngelNV training, low cost, and risk mitigation will produce an competitive return over time. Additionally, AngelNV provides an opportunity to help develop a sustainable startup ecosystem throughout the state of Nevada that historically has been neglected by the venture industry. It is also an opportunity to attract scalable startup business and founders with big ideas to the state and build a more resilient state economy.
Where can I find information about this type of investment?
Typical sites that contain information about risks, returns, etc., are the Kauffman Foundation, Angel Capital Association, and the National Venture Capital Association. You can find out detailed information about AngelNV in the fund's Private Placement Memorandum (PPM) on Glassboard. Please request access via email to jeff@startupnv.org
What type of startups will the fund invest in?
AngelNV LP's (members) make the final decisions about what company or companies receive investment. The AngelNV conference will seek applications from a wide array of scalable startup companies, primarily based in Southern Nevada.
Once I invest, may I withdraw my funds before the fund is terminated?
No. You should only consider investing if you are comfortable with potentially losing all of your investment — or not seeing any return for at least 7 years — and possibly closer to 10 years. The clear objective of any AngelNV conference fund is to earn a substantial return, however, investments in early-stage companies are risky. While we seek to mitigate that risk by providing education through the AngelNV conference, the investment risks remain very high.
Can I invest with IRA assets?
Yes, so long as your IRA documentation and Institution allow such an investment.
What type of legal entity is the fund?
What kind of reporting will I get?
The fund is using the Assure Glassboard platform for all back-office reporting requirements. You will be able to access information via Glassboard including annual updates on fund investments.
Can I invest additional money as a Limited Partner (member) with the AngelNV?
Yes, to the extent the company seeking funding via the AngelNV requires additional capital and that company allows additional investment for the AngelNV via a "sidecar" mechanism.
As a Limited Partner, am I allowed to negotiate terms of the Limited Partnership agreement for the Fund?
No, the terms of the LP (LLC Member) agreement are set by Assure and cannot be modified.
What kind of returns can I expect?
As stated, risk in these types of investments are very high and as such returns could be a total loss or in the historical range for early-stage ventures of 3x to 5x. Past historical returns for this category of investing are no guarantee of future returns and you should invest only with this understanding.
What is the relationship between AngelNV and StartUpNV
StartUpNV is the organizer of AngelNV, but they are separate legal entities. StartUpNV is a IRS approved 501(c)3 non-profit. AngelNV is a for profit venture fund formed as a Nevada LLC.
Angels will review the decks, all of your information on Gust, and your one-minute videos. Based on these, determinations will be made on quarterfinalists.
The 24 quarter finalists are invited to give a 3-minute pitch via Zoom with the conference's investors.
Twelve semifinalists are invited back to give 10-minute pitches in person with investors.
Our six finalists participate in complete due diligence and give their 10-minute pitch in person at the main event on March 28, 2020. Entrepreneurs must be present to pitch. The investors will make a final decision on the day of the conference and invest up to $200,000 in the winning startup.
*Investment amount depends on the number of participating investors.
**Gust is an online platform for startups and investors. AngelNV uses Gust to securely and privately collect your company information, deck, and coordinate due diligence information. Entrepreneurs must upload deck and other information into Gust.